I. General Introduction
Junefield Mineral Resources Holdings Limited was founded in 2008, after four years of development in Peru and Ecuador, we have grown into a integrated organization that leads with Geological Exploration Institute. We built a platform includes mine prospecting, exploration, mine development, operating and production. The Geological Exploration Institute consists exploration department, geophysical department, project department, general information department, manufacturing, test and analysis center. The exploration department has three subdivisions: Copper exploration team, iron ore exploration team, gold and polymetallic exploration team, coal geological exploration team.
At present, our company owns more than 930 concessions in Peru, total area reaches 7600 square kilometers. Some of the concessions have huge potential, located at the west Cordillera coastal region and
Cusco District, Apurímac District
,
Puno District in Andes. We also have some project sites that are based in Putan de Pondo District of Yarabamba Province, Ilo District and Puno District of Moquegua Province. We are also going to build a regional coal base in Santo District of Ancash Province.
In addition, our company possess two gold mine in Ecuador, Florida gold mine and Muluncay gold mine. We also have the intention to acquire the Rio Blanco gold mine recently.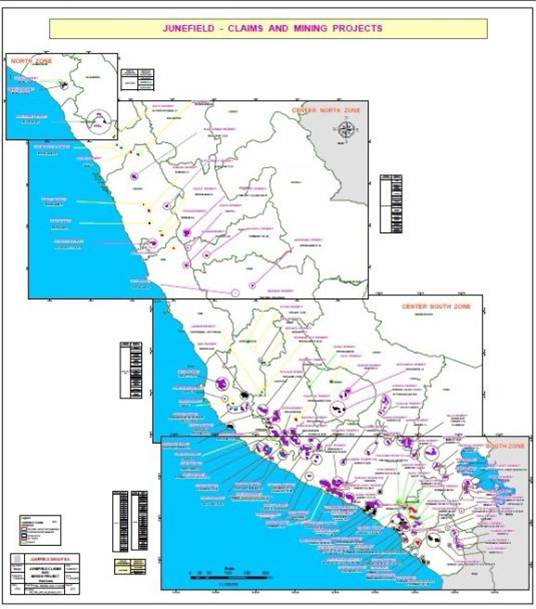 Concessions Owned in Peru
Our company owns a number of iron mine concessions that covers 5000 square kilometers area, the exploration is in progress and has some positive results so far. There are three projects that have reached the exploration and development stages:
(1) Mariela Iron Mine Project
Mariela Iron Mine Project is located in the Southern part of Peru, Arequipa District. It is 78km from the district capital, Arequipa City, and 20km from the coast line.
Mariela Project was acquired by Junefield Mineral Resources Holdings Limited through options method in early 2012, in the meanwhile, Junefield Group has become its Australia head company's largest shareholder.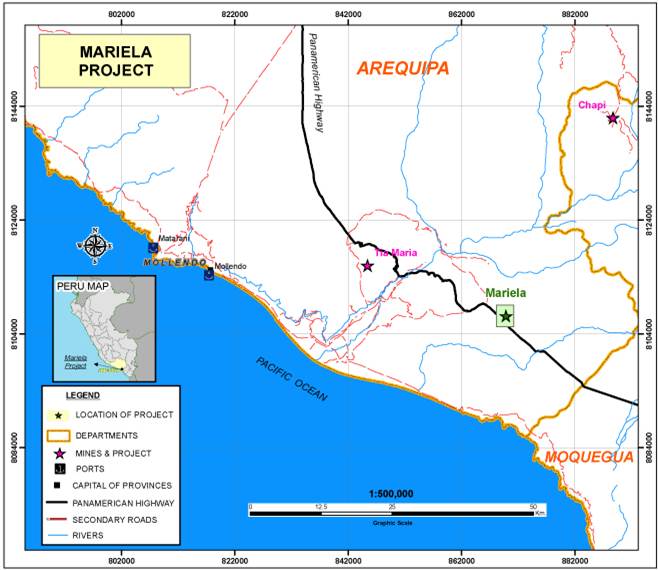 Meriela Project Transportation Graph
Meriela Project has seven concessions, with a total area of 5,200 hectares.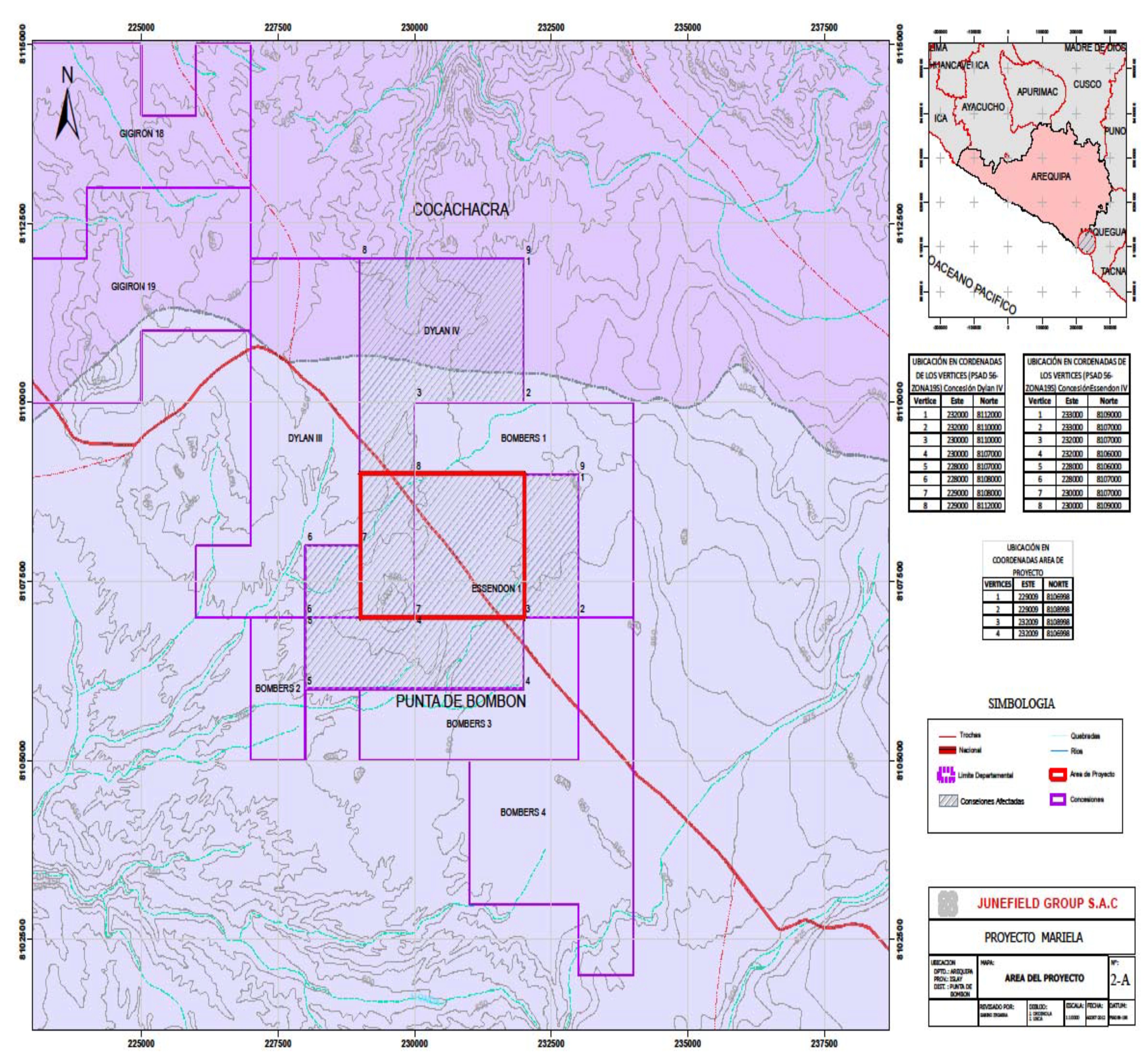 Meriela Project Concessions
Ground magnetic exploration
Ground gravity exploration
Quadrupole symmetric electrical sounding measurements
Transient electromagnetic exploration
Mariela Project Magnetic Anomaly Graph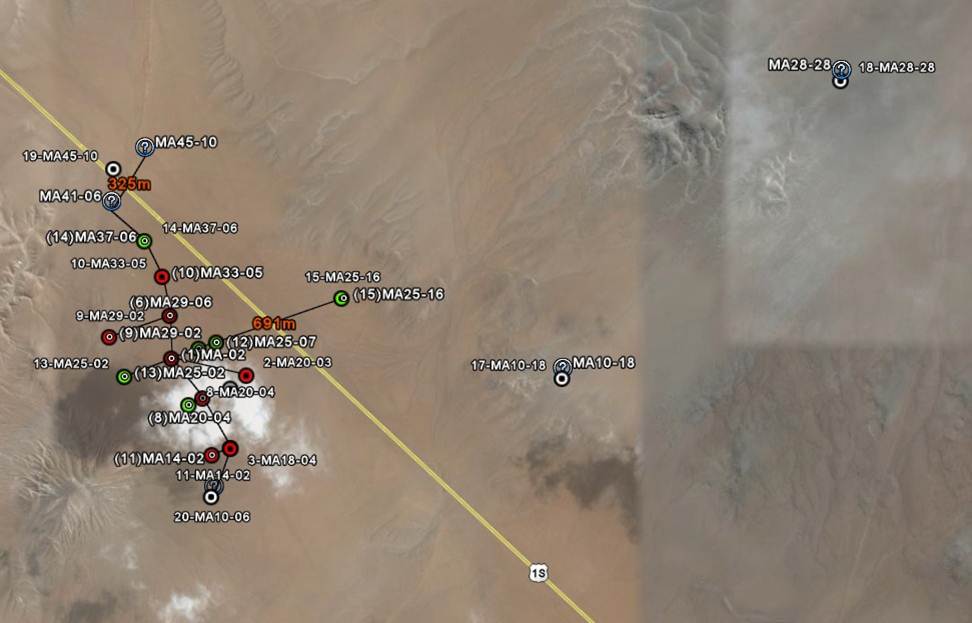 Mariela Project Drilling Holes Location Graph
At the present, there are six drilling rigs at the site. We are currently applying for construction permit of 200 drilling holes, the project will take in place at the beginning of next year.

Six Drilling Rigs in Operation
·The characteristics of Ore: Main ore minerals are magnetite, chalcopyrite, malachite, etc.; main gangue minerals are hornblende, feldspar, quartz, actinolite, pyrophyllite, talc, etc.
·The types of Ore: Massive, dense disseminated, disseminated.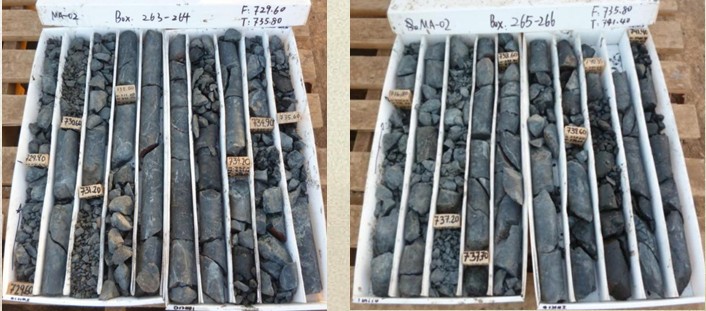 High Levels of Iron Cores Graph
Estimated Ore Resources from Completed Drill Holes

Ore Quantity (hundred million tons)
The industrial index for the resources marginal grade is initially set up at 20%TFe, and the average grade is approximately 40%TFe.
Since the number of drilling holes is limited, and there's no control over the length and the depth of the mine, it is believed that the quantity of mineral resources will increase in the future.
(1)
Ferro Sur Iron Mine Project
Ferro Sur Iron Mine is located in Puno Province, Acora District of Peru.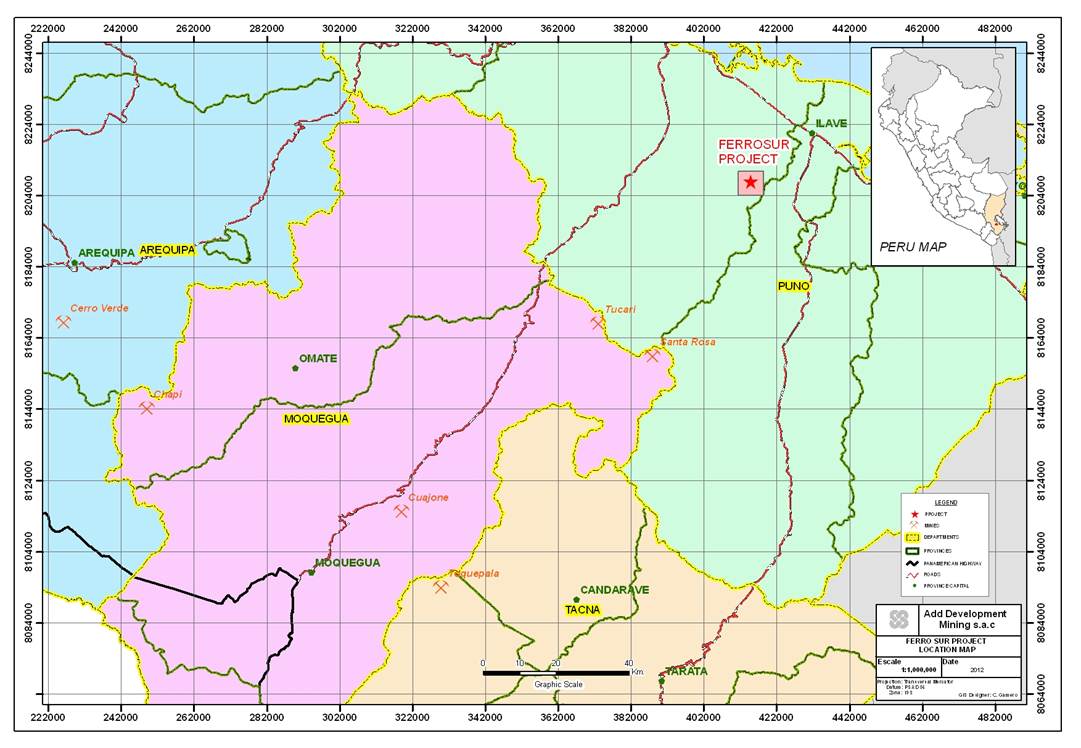 Ferro Sur Project Transportation Graph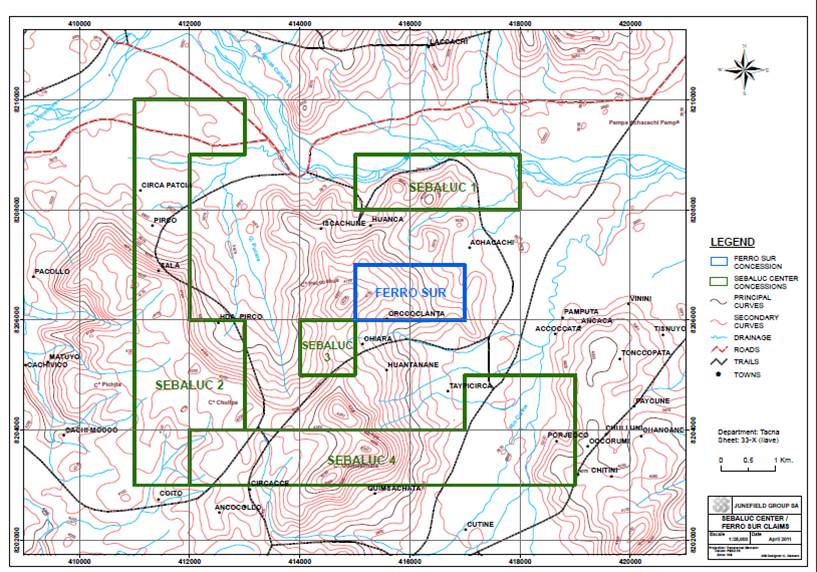 Ferro Sur Concession Graph
The resources estimation of Ferro Sur Iron Mine is over 1.6 hundred million, with an average grade of over 62%. Most of the area has bare surface, which forms an "iron mountain", considers to be enriched ore with high quality and relatively easy to obtain.
The traffic and water supply of the concessions are also in good condition.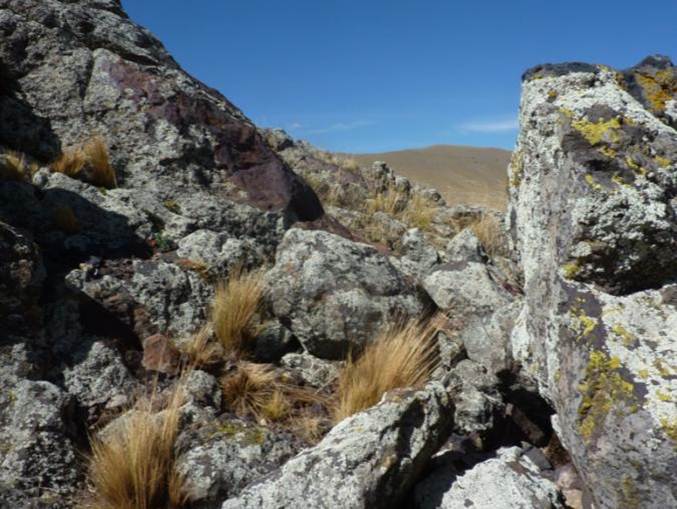 Ferro Sur Mine's Bare Surface with High Quality Iron Ore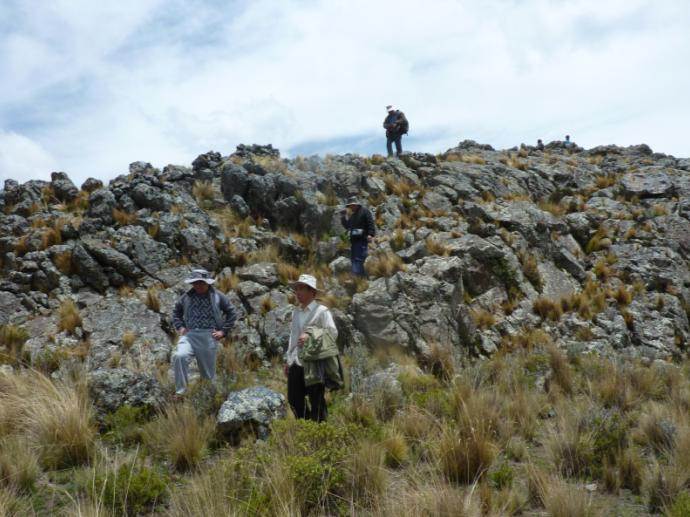 Expertise from the Company on Ferro Sur Project Site
(2)
Morritos Iron Mine Project
Morritos Iron Mine Project is currently in the process of production, this project is located in Southern Peru, west of Tacna Province, Southern Peru's iron oxide copper-gold metallogenic belt. The measured resources are ten million tons.
In 2010, the company completed concession acquisition, general investigation and exploration, production, shipping, and successful retailing, created a full business process, becoming a miracle in Peru's mining industry! So far, the production of the mine has reached 500,000 tons, and the ore grade is around 61%.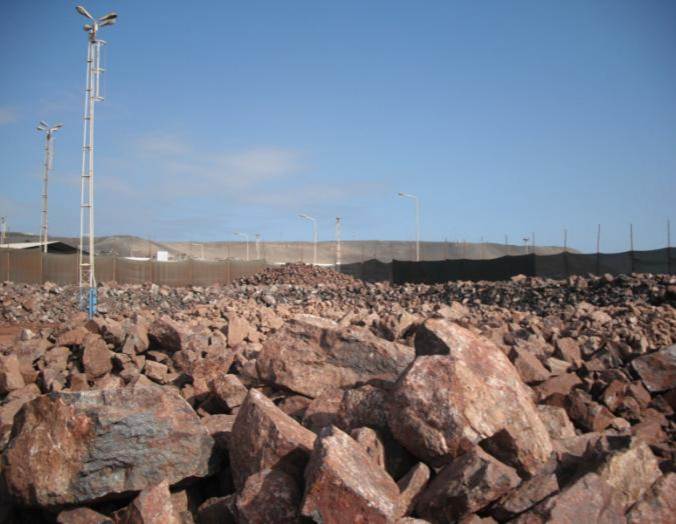 The mine possesses relevant mechanical equipment including excavator, gadder, frontloader, earthmover, crusher and some production supporting equipment. There is also a professional transport team which consists of water carts, tank cans and 40 dump trucks.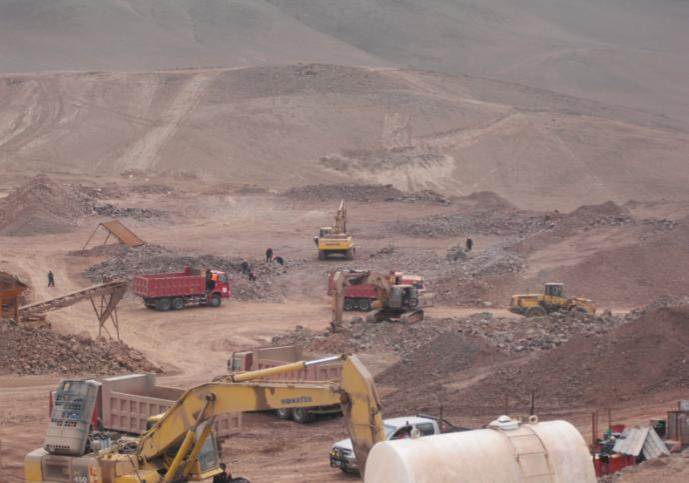 Iron Ore Production Site

At the moment, the Morritos Project is shifting its exploit method from opencast operation to cave operation, in order to lower the cost and to
improve the product quality.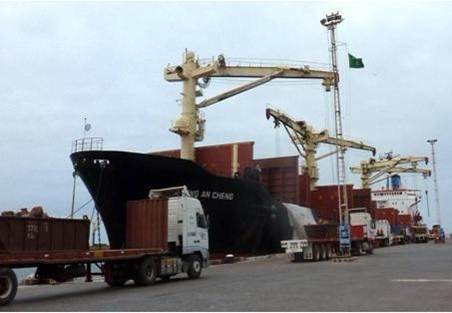 The Peru-Chile porphyry metallogenic belt is internationally well known, in Peru, there are Cerro Verde
,
Toquepala
, Cuajone and other large porphyry deposits. On this metallogenic belt, the company owns more than 150 concessions, total area is 1380 square kilometers.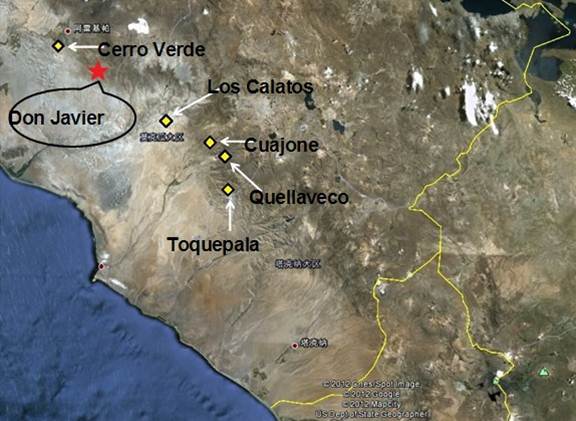 Copper Mine Distribution Graph
Don Javier Copper Mine is located in Southern Peru, 30km away from south Arequipa, it's a porphyry copper mine with copper, molybdenum, lead, zinc, and silver.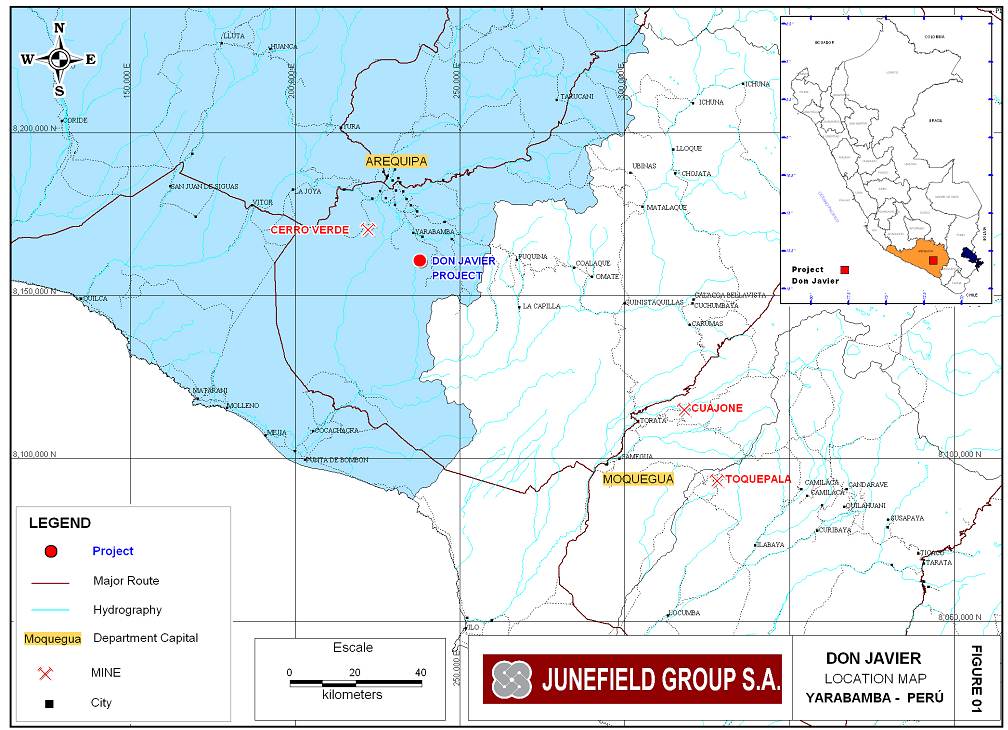 Don Javier Project Transportation Graph
Don Javier is consist of 9 concessions, with an area of 32.4 square kilometers. So far, the exploration work is concentrated on Don Javier concession.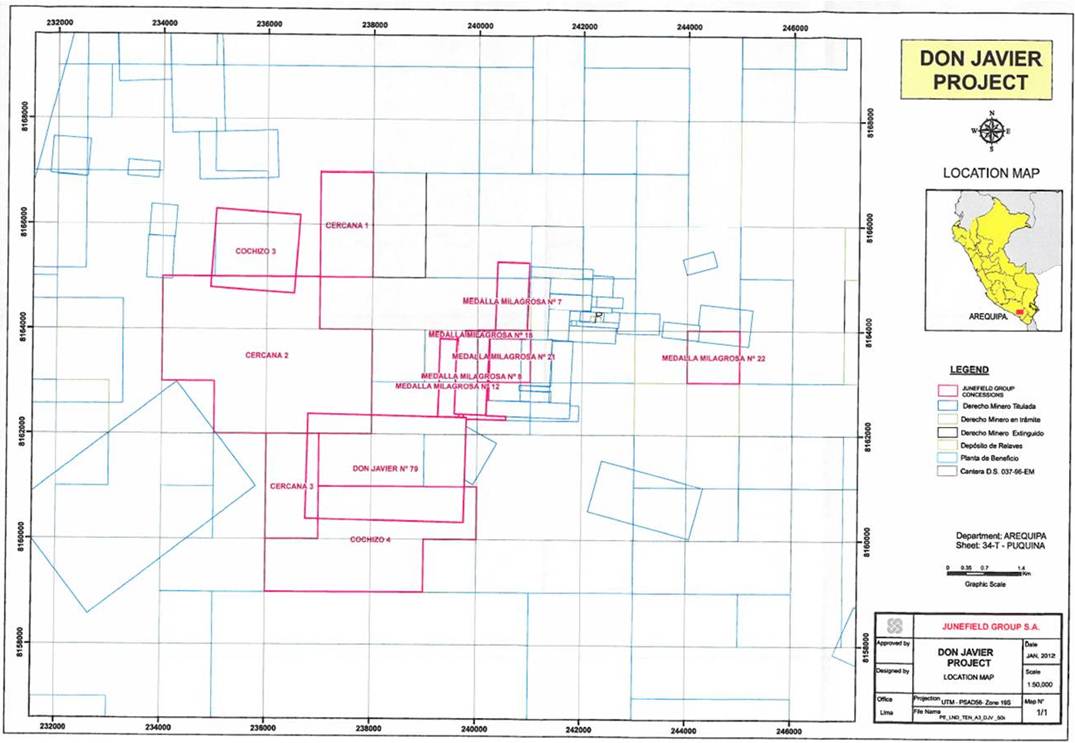 Don Javier Project Concessions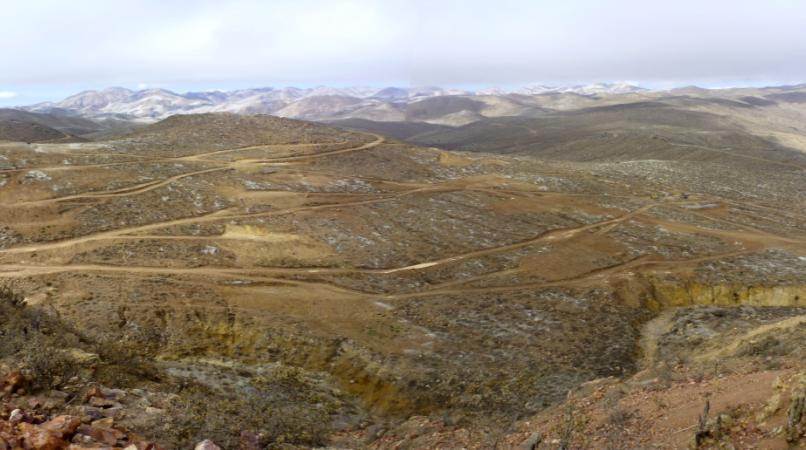 Landscape of Don Javier Project
In the past four years, geological work, geophysical work, and geochemical work has been carried out, and there is a large amount of drilling in No.1 and No.2 mine belt.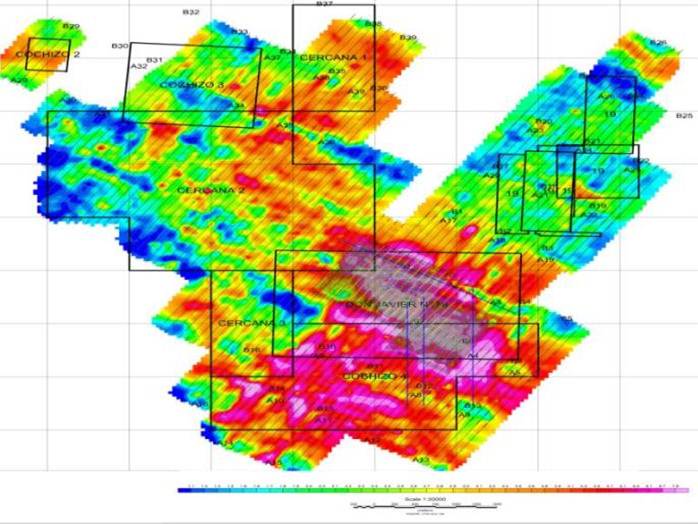 Geophysical Anomaly Area of Don Javier Project
At present, there are 83 drilling holes, with drilling footage more than 70,000 meters. After the primary investigation with 100
×
100 drilling network, the ore shape and attitude of No.1 and No.2 belts have been identified.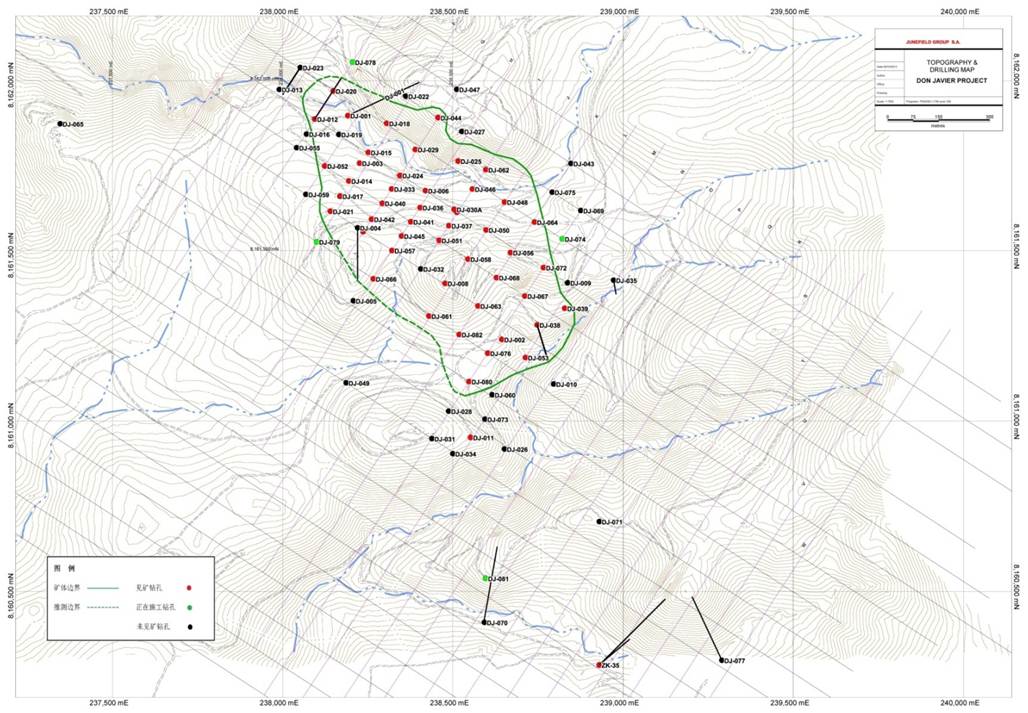 Drilling Holes Distribution of Don Javier Project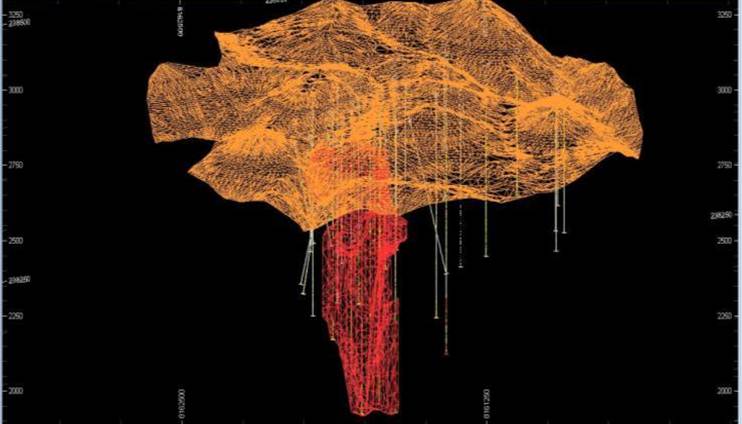 According to the data of the past 67 drilling holes from No.1 and No.2 mine belt, 1.33 million tons metal copper (1.45 million tons equivalent copper) has acquired.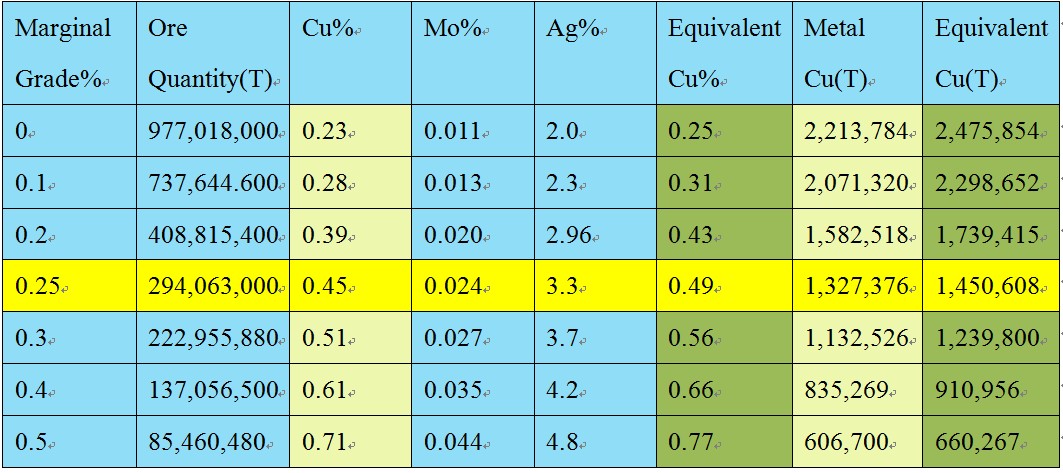 Metallurgical experiments
The results from Don Javier porphyry copper mine project metallurgical experiments:
·Undressed ore has Cu 0.53%, Mo 0.045%, Sulfer 3.93%, Ag 6.94%, and small proportion of other elements;
·The sulphide has Cu distribution 87.69%, Mo distribution of 97.78%;
·The norms for Cu Mo preferential floatation experiments are: copper concentrate grade 24.24%, in which molybdenum grade 2.77%, silver grad 104g/t, copper recovery rate of 64.04%, molybdenum recovery rate of 80.51%, and silver recovery rate of 20.59%.
·

Ore dressing process: semi-autogenous griding + ball-milling + floatation.
·
Product: main product includes copper concentrates; byproduct includes molybdenum, silver and gold.
·

Copper recovery rate: 87.5%
The project has completed the deposit exploitation economic research.
Open pit mining method and underground mining method. The most common method is underground mining method, caving mining method.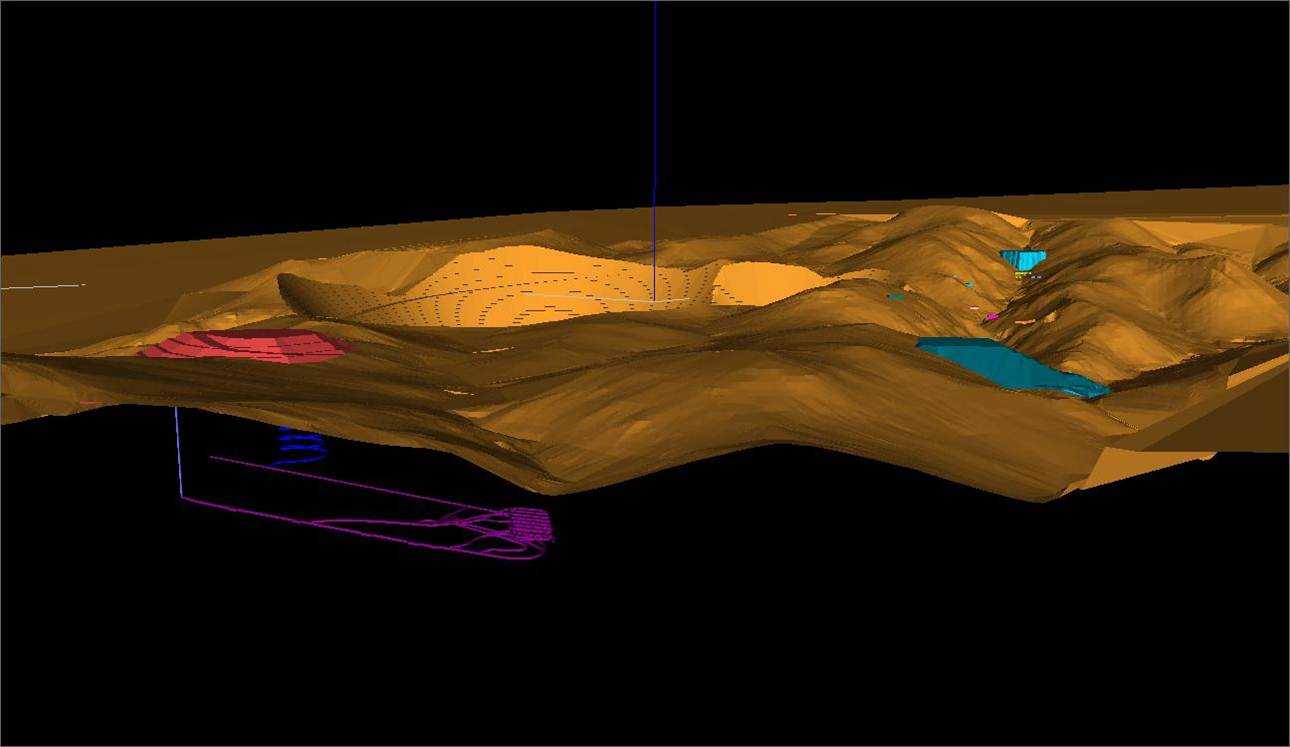 Schematic Diagram for Open Pit Mining Method and Underground Mining Method
·Dr. William X. Ch
á
vez is a well know porphyry copper mine expert, after his visit on site in 2012, he pointed out that Don Javier is a well-developed Cu-Mo porphyry system, and the potential copper metal resource quantity for this project is more than 5 million tons.
·
In this project overview, the resource quantity has only been calculated up to hole No.67, the construction work has reached to hole No.83 so far. The onsite engineers is very optimistic regarding the grade, after the laboratory test is completed, there will be an increase in the resource quantity estimate, especially there has shown good mineralization and industrial ore body in the two drilling holes of the No.3 mine belt.
·
As more exploration works are carried out, the prospects for the project resource quantity is positive, and may become a large porphyry copper mine in Peru's porphyry copper mine belt.

Porphyry Copper Deposit and Experts from AMEC on Site
1.
Gold and Polymetallic Project
Peru has enriched Au-Ag and Pb-Zn mineral resources, it is mainly concentrated in Northern Peru Ancash, Mid-South Pune and coastal bedrock area Acari. In this appealing territory, the company possesses 620 square kilometers concessions, and is in the process of exploration and general investigation. Some concessions like Corivale etc., has shown their appealing mineral prospects.
In Ecuador, the company has acquired La Florida 1 Gold Mine, Muluncay Gold Mine and has intention to acquire Rio Blanco Gold Mine, these projects are in the designing or production phase.
(1)
Florida Gold Mine Project
Florida Gold Mine Project is located in Ecuador, 35km from East Santo Domingo city, the mine is 20km away from the main road, the transportation and water supply is very convenient, with developed vegetation. The area for this mine is 350 hectares.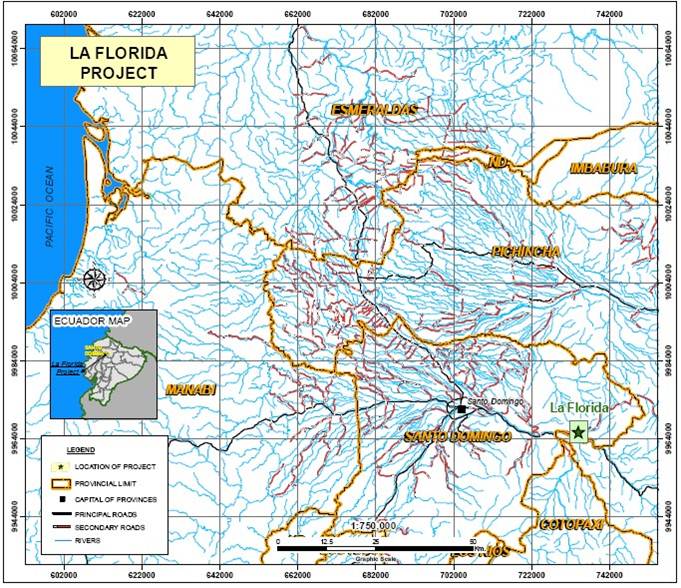 Florida Project Transportation Graph
This mine has developed fracture, apparent mineralization, the current estimation of metal resources is around 8 tons.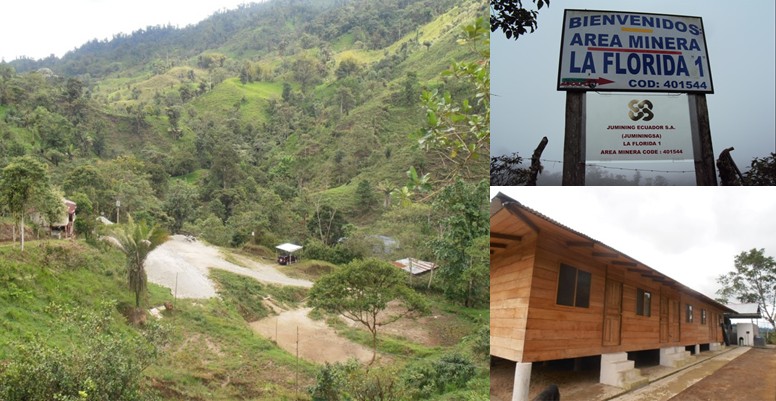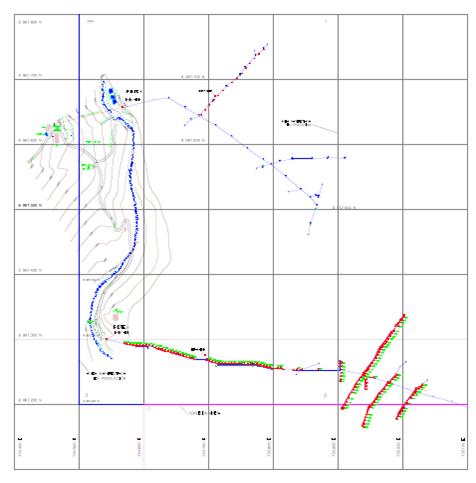 La Florida Adit Planimetric
(2)
Muluncay Gold Mine Project
Muluncay Gold Mine is located in Zaruma, El Oro Province, Ecuador, it is 3km away from East Muluncay, and 120km away from Machala, the transportation is very convenient. The mine has steep terrain and lush vegetation. Muluncay Gold Mine has total reserve of 220kg gold, 2640 tons copper, is considered as small polymetal mine.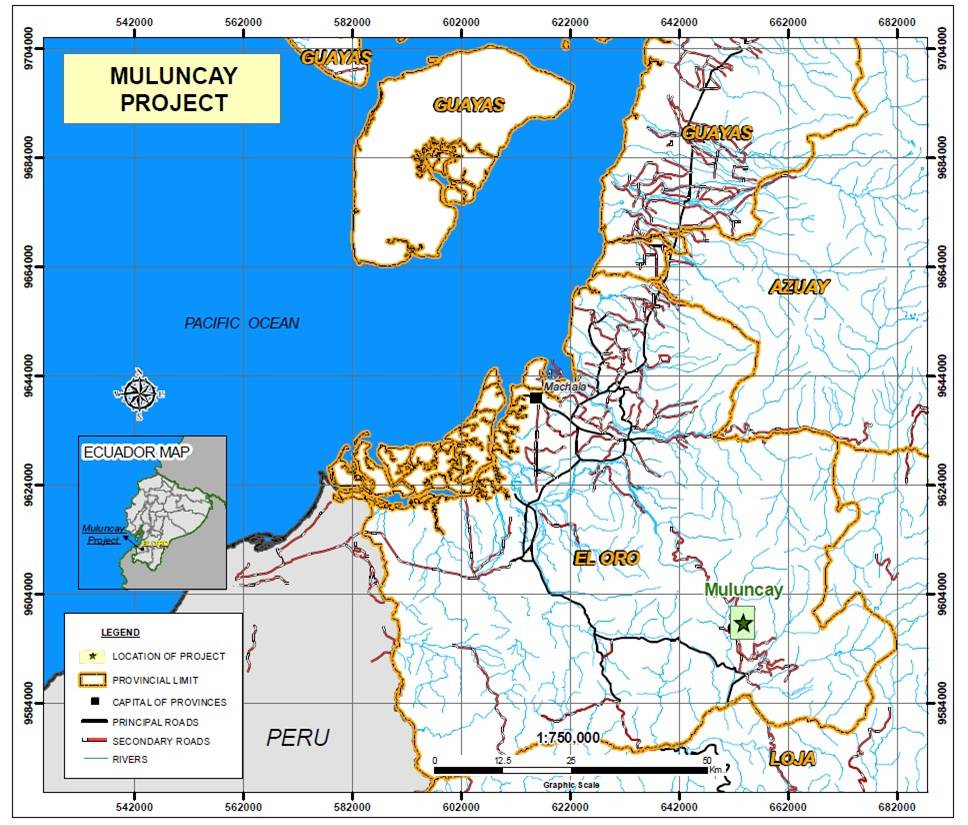 Muluncay Project Transportation Graph
(3)
Rio Blanco Gold Mine Project
Rio Blanco Project is located in Ecuador, 50km from West Cuenca, 320km from Southwest Quito, and on the boarder of CAJAS National Park. The project is 3,900 meters above sea level, belongs to the Andes region in South America.
Caminante Coal Project is located in Tauca Distrct, Northern Ancash (Chimbote) Province, Peru.
The sample test results from this project indicated low ash content, high heating value, and good coal quality.
Other projects that are in process
Apart from the above projects, there are 21 other projects being carried out:
·Drilling projects in process: Rosemary11-15, Conymecar2, Rosemary 31-32, Rosemary 60-6.
·Drilling projects to be implemented: Corivale, Black star1-4&9-11, Marianitas.
·Drilling projects under investigation: Gigiron86-98, Gigiron136-139, Gigiron112-121, Gigiron22-34, Gigiron143-146,
Gigiron157-158
,
Conymecar40
,
Rosemary108
,
Rosemary116-117
,
Rossemary122
,
Melly2-3
,
Custrong7-8
,
Gigiron140-142 etc.
III.
Geophysical Prospecting
The company's Geophysical Prospecting Department has excellent staff and equipment. In 2011, 313,000 hectares area has been scanned using the magnetic method. The team now possesses one unit of V8 electrical workstation, 10 units of frequency domain induced polarization instrument, one unit of time domain induced polarization instrument, 28 units of proton magnetometer, one unit of Integrated geophysical well logging system, 2 units of the three component magnetometer, one unit of gravimeter, and other advanced and practical geophysical prospecting equipment.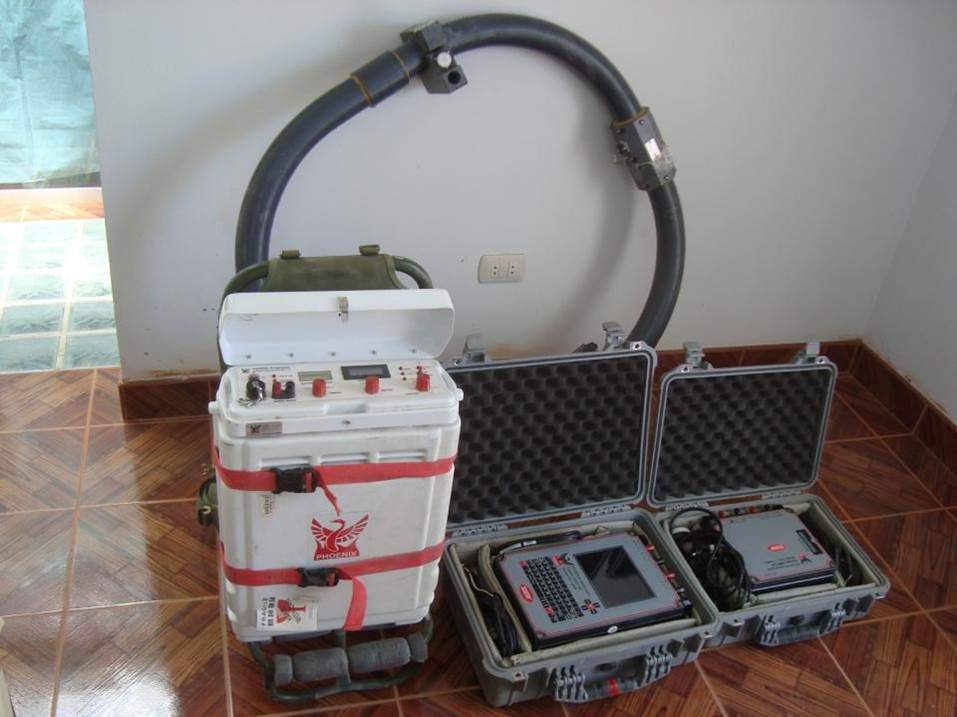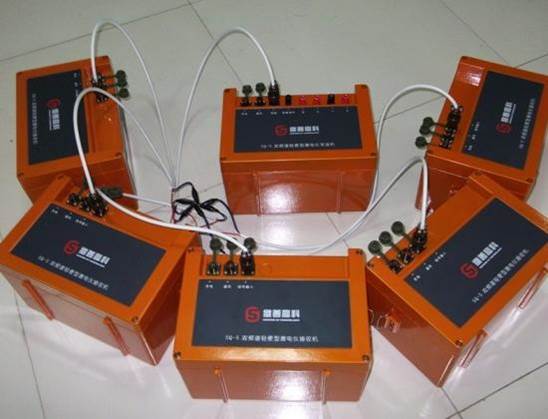 Dual-Frequency IP Instrument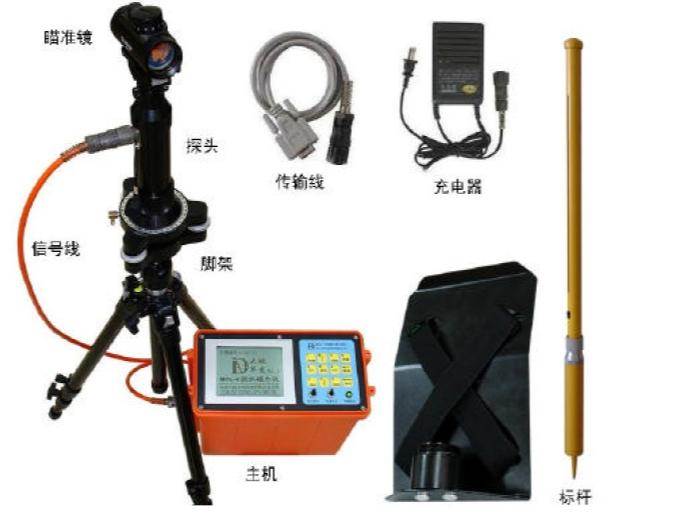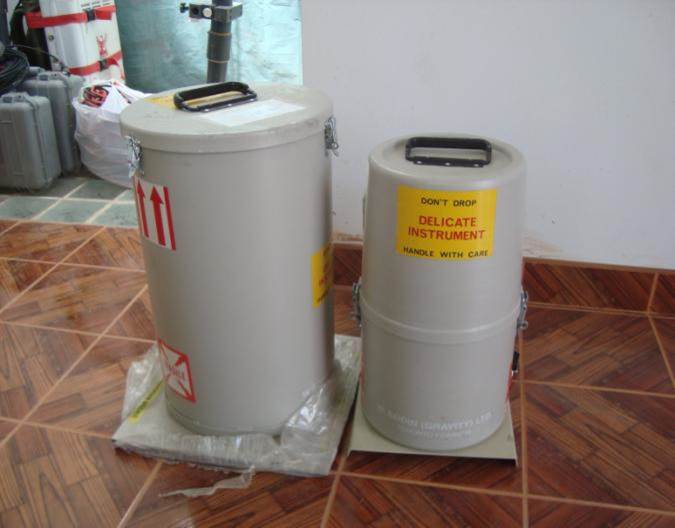 The company has a professional drilling team, with an annual drilling capacity of 150,000 meters, this team can provide services for company's exploration and production, and it can also take drilling contracts from other company at the same time. The drilling team possesses 21 units of drilling rig in different categories, includes ten units of HYDX-6
full hydraulic drilling rig (with 1,600 meters drilling capacity), two units of
HYDX-5
full hydraulic drilling rig (with 1,300 meters drilling capacity), two units of truck-mounted drilling rig (with 1,000 meters drilling capacity), three units of the vertical shaft rotary drill core (with 2,000 meters drilling capacity), three units of XY-44 drilling rig (with 1,000 meters drilling capacity), one unit of XY-4 drilling rig (with 700 meters drilling capacity). Two units FSL800A air reverse circulation drilling rig have been booked. With these advanced equipment and our exquisite technology, single hole drilling depth has reached 1300, 1800-2000 meters drilling holes are currently in the designing process.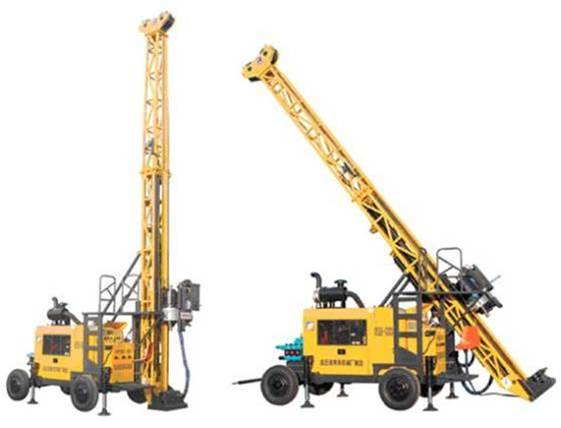 Full Hydralic Drilling Rigs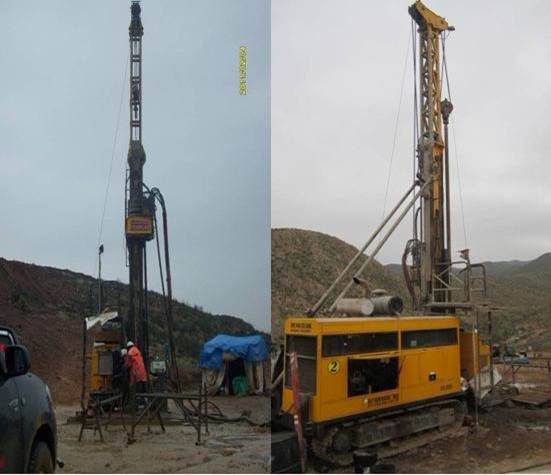 Drilling Rigs are Operating on Site
V.
Company Structure & Human Resources
When the company was first founded, the president Mr. Zhou chose Central South University as a strategic partner from a long-term vision, and founded Central South University Junefield Mining Research Institute. This institute gathered a group of expertise in the mining industry regarding geology, mining, mineral processing, and smelting, these expertise not only possess professional theories and knowledge, but also have actual experiences in such territory, provides powerful supports for the company's long-term development.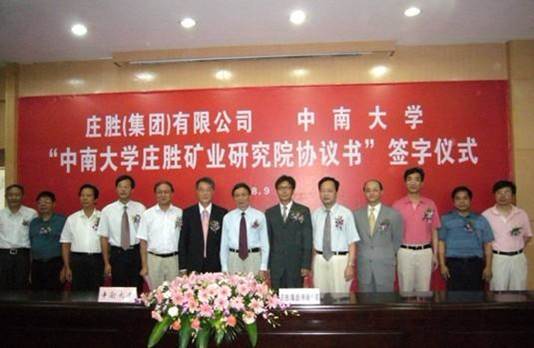 Signing of the Strategic Cooperation Agreement between Central South University and Junefield Group
By the end of October, 2012, the company has more than 790 professional in the geology exploration and production field.
–
More than 200 professional experts.
–
More than 30 expertise from China and Peru.
Our professional management team is leading the company to a new era.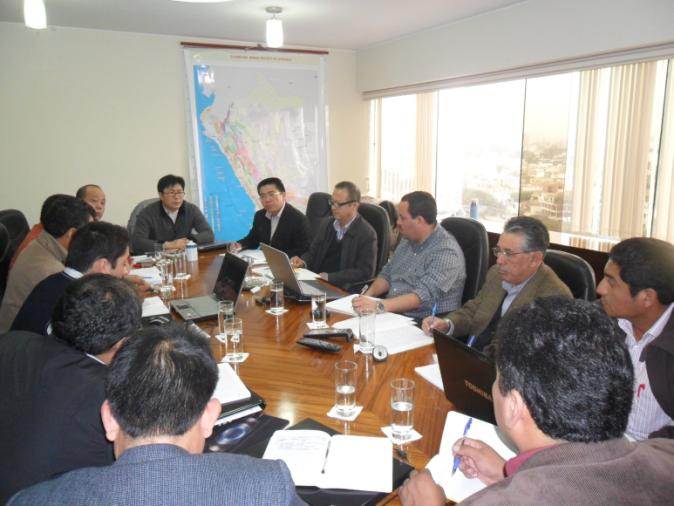 Office in Lima -- Experts from China and Peru are having a Discussion Regarding Geological Works
VI.
Community Responsibility
Junefield Mineral Resources Holdings Limited has a long-term cooperation relationship with the government in Peru and Ecuador, concession owners, and other community members. Our company so far has provided more than 2,000 employment opportunities in Peru and Ecuador.
Our company strictly obeys the mining regulations in Peru, has a strong consciousness of environmental protection, and has an amicable relationship with the local community, positively involved in community activities and resolve living difficulties for local population.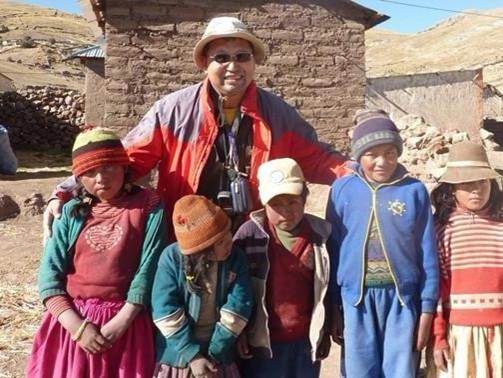 Technical Personnel with Local Children
VII.
Development Prospect
From the current resources amount, it can be predicted that within the next 15 years, the company will be able to reach the goal of producing 50 million tons iron ore, 0.5 million tons copper metal, and 20 tons gold.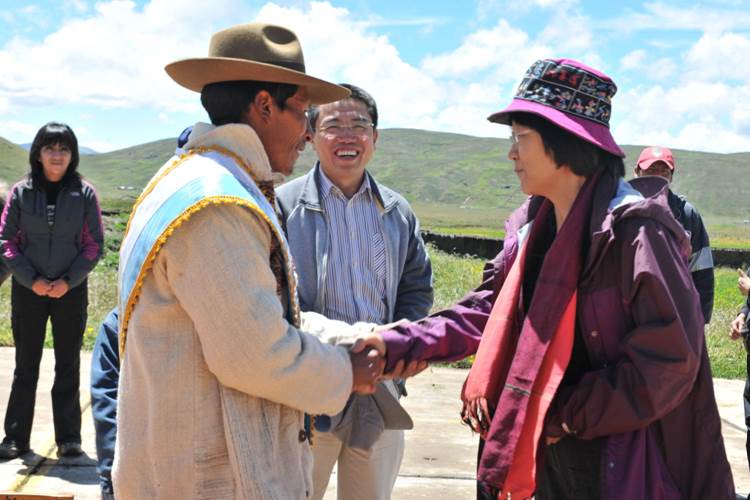 Company President Mr. Bin Wu accompanied Chinese Embassador to Peru at Ferro Sur Iron Mine Project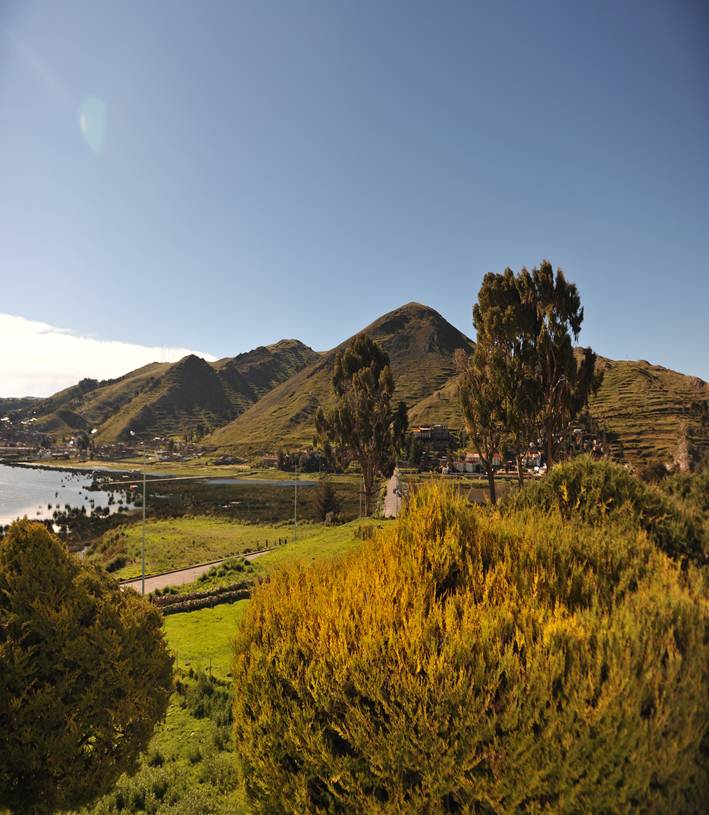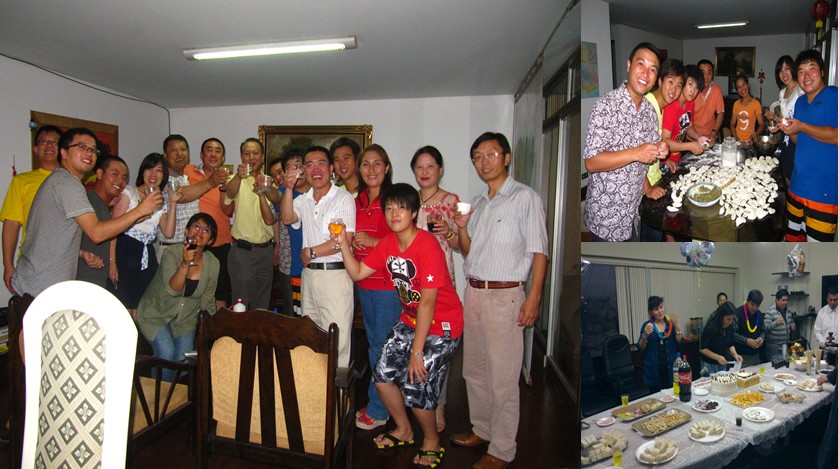 Company Staff Celebrating Chinese New Year in Peru